Phil Plane's Gliding Page
I am a glider pilot, and an instructor. I am a keen cross-country pilot and compete at regional and national competitions.
My logbook is online.
I maintain the turnpoints database. Now I have checked the cambridge turnpoint files into cvs to better track any changes. Viewable via CVSWeb.
There is also the Omarama landouts database. The XML database is available, and this is used to generate a map.
I used to own ZK-GEH, a Ka6CR.
I wrote some notes for club pilots converting the club's Ka6.
An article for the club newsletter about a good flight I had in the club's two seater.
I took an opportunity to get some nice photo's of a libelle flying along a ridge.
In January 2003 I had a share of a DG1000 high performance two seat glider, ZK-GDG. This was sold in 2009. Early in 2004 I went on a mountain flying course with Glide Omarama.
In November 2003 I flew in the South Island Regionals and came third in the Standard performance class.
I moved to Omarama at the end of 2004 and have been working as a gliding instructor, initially with Southern Soaring, currently with Glide Omarama.
My current glider is a Glasflugel Hornet, ZK-GOL.
Me at 9500ft over the Wairarapa, heading south.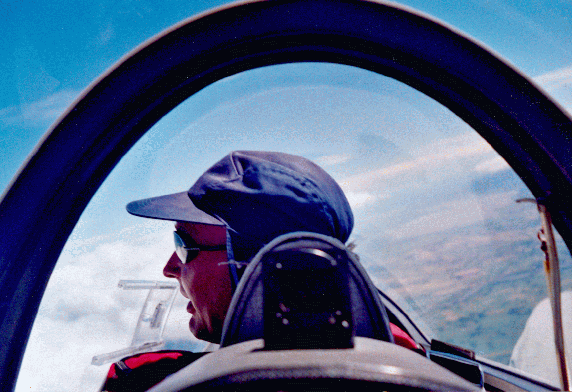 philip@xinqu.net