ZK-GEH is a Schleicher Ka6CR that first flew in 1965.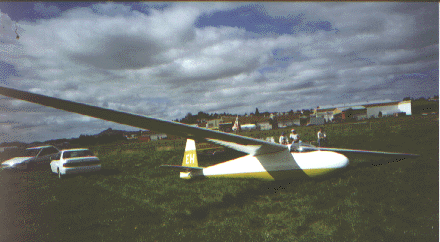 ZK-GEH no longer mine. It had:
Panel
ASI bought new 1995.
Borgelt Vario with averager and speed to fly.
Altimeter
Turn and Slip
A8A oxygen regulator, but no other plumbing.
Terra 250 transponder with altitude encoder.
Terra 760D radio.
Battery 12v 10AH
Charger
JW glide calculator (whizwheel)
Ground handling gear
Fuselage stand.
Wing walker
Clip on tailwheel
Trailer
The trailer was given a new axle, hubs, wheels in 1996. In 1999 the whole underfloor structure was replaced. The trailer is sound and keeps the glider dry.
Additional bits
Parachute - Strong type LOPO manufactured 1990
Garmin II+ GPS
Varicalc datalogger (non-secure)
ZK-GEH has a very tidy panel.