I started out trail riding on my Honda SL125 in 1975. It was a lot of fun. Here's the bike in action.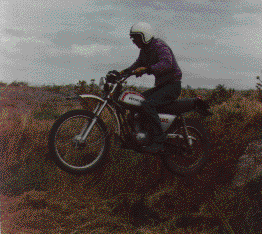 I progressed through various Yamaha RD350's and a very dodgy Honda CB100 till I ended up in Singapore. While there I bought a number of bikes. A Honda CB350, the early twin with a drum brake, an Italian 250cc single that I got in bits and never ran, a Suzuki GP100 that was modded into a racebike, a Matchless G3 that never ran, and a Kawasaki Z500B1.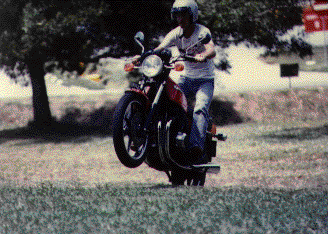 After returning from Singapore I sold the Z500 and went through a series of bikes.
Honda CB250RS
Honda GB400
Honda TL200
Montesa Cota
Kawasaki KR250
Yamaha RD400F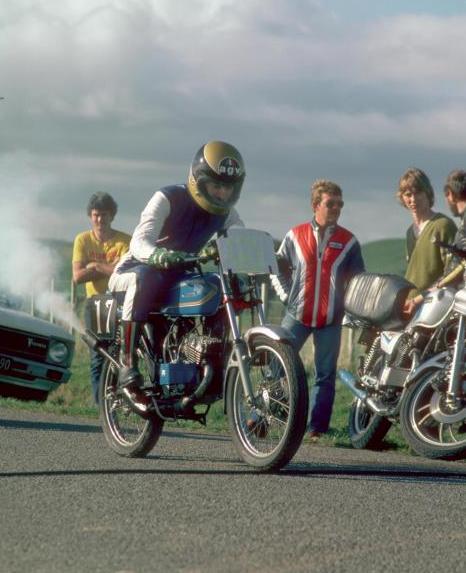 I have competed in Enduro, Road racing, and observed trials. The most fun was road racing. Once I lapped Manfield in under 90 seconds on a showroom stock Honda GB400.
Circuits I have raced on
Manfield (Feilding)
Ruapuna (near Christchurch)
Shah Alam (Kuala Lumpur, Malaysia)
Cemetery Circuit (Wanganui)
Pukekohe (near Auckland)
Major white knuckle moments
At the end on the front straight at Shah Allam there is a 90 degree left hand corner going up a hill. My Kawasaki spat one of the front brake pads out when I grabbed the brakes for this corner. I was going about 160kph.

When I did this there was enough run off that I was able to stop with just the rear brake. The bike came to rest only a few meters from a large (deep) open drain. I told one of the other riders about it and he said that the black mark I left when the rear wheel locked was a good brake point marker because it was just where you needed to start braking and was right in the middle of the track.

I had to ride that bike home to Singapore (400km) with no front brakes!

The next year I saw someone do the same thing on a RG500, except he was going much faster, and a dirt wall had been constructed across the runoff. The bike ate the wall and the rider went over the top. The rider walked away, but the bike was trash.

On a fire break near Tokaroa I was going absolutely flat out on my SL125 (100kph) when I came around a blind corner. The corner was built up on the inside, and formed a steep ramp. I swear I flew above the pine trees. It felt like I was in the air for ages. The bike started to rotate back until it felt like it was near vertical when I landed. I still have the scars on my chin from that landing, and my jaw is a bit crooked